Mr. Kat is returning from the funeral today and work continues here, a bit slowly, but apace. Here is the current count as I start in on creating more:
Word count added on 12/8: 2,744
Total word count of WIP at end of 12/8: 58,759


Total words generated including false starts and outlines: 62,781
Deadline is technically December 31, 2012, but it's likely no one will see it before January 2, 2013, because… well who's going to be in the office after Noon on New Year's Eve?
And yes, it's cold and raining here in Seattle. Bella gets dried off after every walk: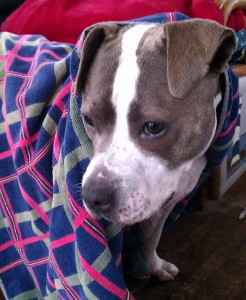 Stay warm and dry everyone.