Wolfsbane and Mistletoe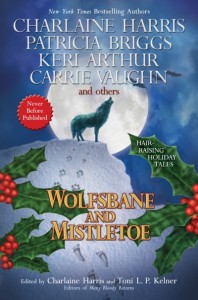 Let's face it—the holidays can bring out the beast in anyone. They are particularly hard if you're a lycanthrope. Charlaine Harris and Toni L.P. Kelner have harvested the scariest, funniest, saddest werewolf tales, by an outstanding pack of authors, best read by the light of a full moon and with a silver bullet close at hand.
Whether wolfing down a holiday feast (use your imagination) or craving some hair of the dog on New Year's morning, the werewolves in these and eleven more frighteningly original stories will surprise, delight, amuse, and scare the pants off readers who love a little wolfsbane with their mistletoe.
What People Say about Wolfsbane and Mistletoe:
"Fifteen exceptional authors are brought together to make Wolfsbane and Mistletoe a captivating collection."–Kimberly Swan, Darque Reviews

ISBNs:
US hardcover: 978-0441016334
US mass-market: (Jan 2011)
German paperback: 978-3423211758

Foreign Covers